Welcome to www.lovedesignandresearch.com  and my essays (on this page) and publications on design. Your comments are welcome!

Dr Terence Love
This email address is being protected from spambots. You need JavaScript enabled to view it.
+61 (0)434975848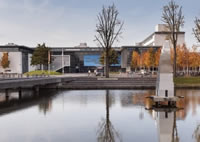 A presentation for Faculty of Industrial Design Engineering at TU Delft on 21 June 2021.
A video of the presentation and discussion is available HERE and the PowerPoint slides are available HERE.
A practical challenge is to find design theory that is universal and practicable across all design fields.

Dr Terence Love, CEO at Design Out Crime and CPTED Centre; and Mark Ames, Principal Adviser at Hivint
(Note: This paper is the work of the authors and has not been reviewed by or authorised by Hivint and does not represent the views of Hivint.)
Traditional IT folk tend to regard industrial control systems (ICS) as poor in cyber-security terms. They present a real challenge to traditional IT folk. Typically, ICS are Windows and Unix and Linux servers running specialist software applications. That's reasonably familiar, but these systems are not connected to people or data stores: they're connected to pumps and switches and relays and valves that open and close, switch off and on.
Often referred to as OT (Operational Technologies), these are the systems that control large important electrical grid infrastructure and manufacturing plants, nuclear power stations, sewage plants, oil and gas plants, water processing systems and the like. Another name for them is SCADA (Supervisory Control And Data Acquisition) systems.
If bad actors can take control of SCADA/OT systems they can create tremendous amounts of long-term damage, and threats to life for large populations: a perfect terrorism scenario.